Top 10 Heatmap Tools to Check Out For Website Conversion Optimization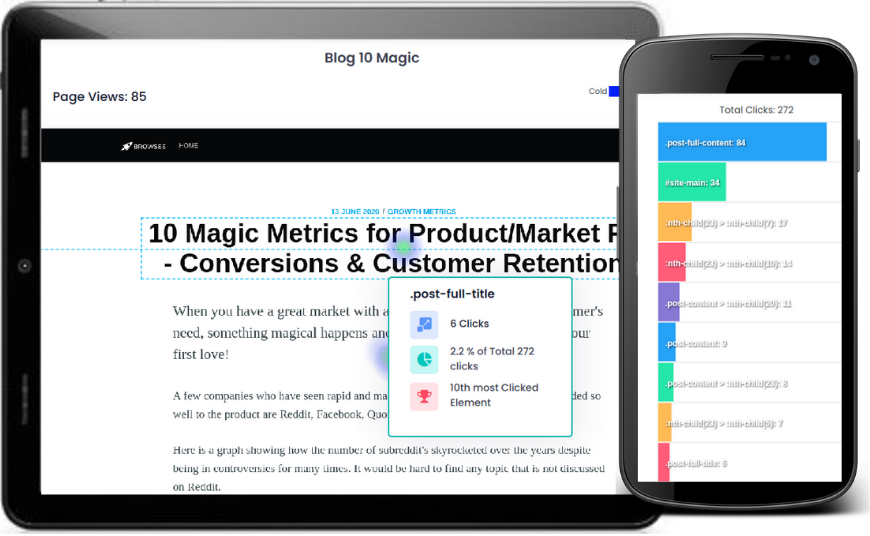 Well, you have spent some dollars and time and created that most stunning and impressive website taking care of all best practices for UX design. Now comes the tough part. You need to know if all your efforts really work. But how can you analyze how your visitors interact with your website. You really cannot how they interact until you have enough data. But how do you get that data?

Heatmaps are one of the most powerful ways to gather data about your visitors' user behavior -  where they click, how they scroll, what they look for, and so on. It is a graphical representation of the data using a system of color-coding to represent the values. A heat map basically uses a cool to warm color scale to indicate the increase in interaction. Hence blue means the least interaction and red means most interaction. The color-coding nature of heatmaps makes it easy to understand trends at a glance.

By analyzing the actions users perform on your webpages, you can understand how well your design or content is successful in achieving your end goals, in case of an eCommerce website, this end goal may be, visitors adding your merchandise to the cart and making the checkout, or in case of a blog post page, the ned goals may be to make your read through the post till the end, and so on.

Heatmap tools allow you to track the time people spend looking at, clicking on or scrolling through the various areas on your webpage and get a clearer picture of your user behavior - what they like in your site, what they don't like, or maybe what they don't understand. There are different types of heatmaps as:

Scroll maps - It tells to what point on a page does users scroll before they abandon the page. Based on insights from scroll maps you may adjust the length of your webpage content to make it more effective.

Click maps - Click maps show you where your users click on a webpage.

Mouse-movement maps - These track the movement of the cursor of the users to reveal how users read through your pages.

So, excited to identify the hotspots or idle areas of your web pages? But not sure where to get started. We have you covered. Here are the top 10 heatmap tools that can help you analyze your user activity and identify which are your high-activity areas and which areas your visitors are struggling to convert.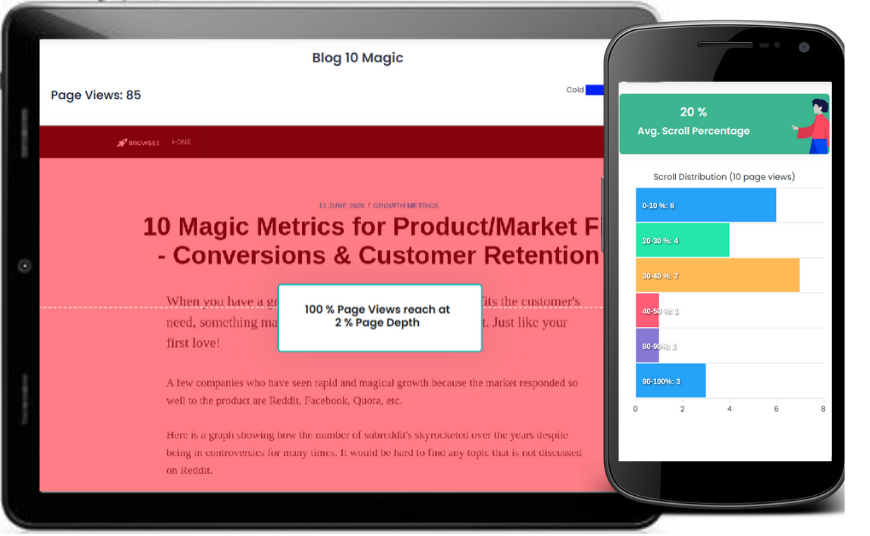 Browsee give you complete picture on what is happening on your pages. Browsee divides user behavior into multiple clusters. You can find out what the users who are dropping tend to do and what those who convert do.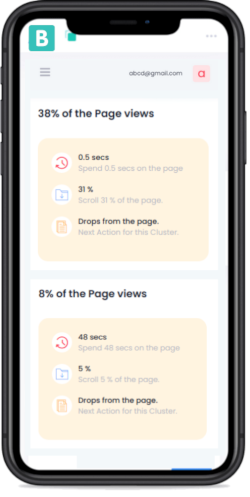 Browsee's heatmaps are intuitive and informative giving you a hell lot of insights on how your users interact with your site. It gives click heatmaps, scroll heatmaps and attention maps to identify the areas that gets most engagement or the least engagement.
You can also compare heatmaps side by side on selected date range in Browsee to see how your user interactions with your site have changed during the time due to changes in content to your site or any other factors.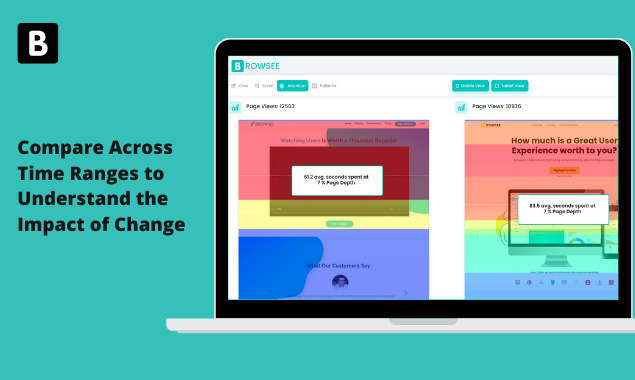 Browsee also offers other features that add to your user behavior insights like session replays, funnel analysis, extensive filters for segmentation, frustration clicks alerts and error reporting.

Pricing

Free Version Available
Starter pack starts at $19/month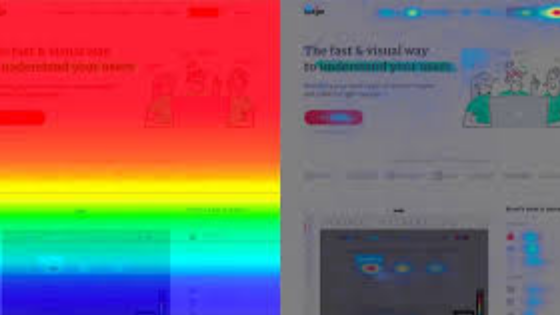 Hotjar heatmaps can provide you insights into what your users are interested in by analyzing their clicks and scroll behaviors. It provides click heatmaps, move heatmaps, and scroll heatmaps.
Apart from heatmaps, HotJar also offers other analytics features for user behavior analytics like session replays, conversion funnel analytics, form analytics, and surveys and polls. With all this, HotJar becomes a multipurpose tool for website conversion optimization thought it can be a little costly form small businesses.

Starting Price: $89.00/month
Free Trial: Available(15 Days)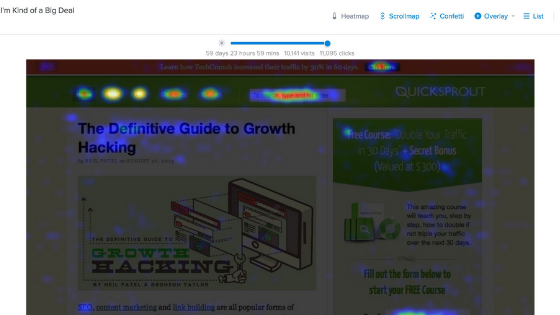 CrazyEgg, is another popular website optimization tool that offers powerful heatmaps. It provides heatmaps, scroll maps, and click reports which can show you how exactly your customers respond to elements on your site. It allows you to eliminate all guesswork with no hassle.

Other website optimization analytics features that Crazy Egg offers include session recordings, and A/B testing. Combining Crazy Egg's A/B testing results and insights from heatmaps and session recordings can give you a better understanding of the results and decide what needs to be optimized.

Pricing
Starting Price: $24.00/month
Free Trial: Available (30 Days)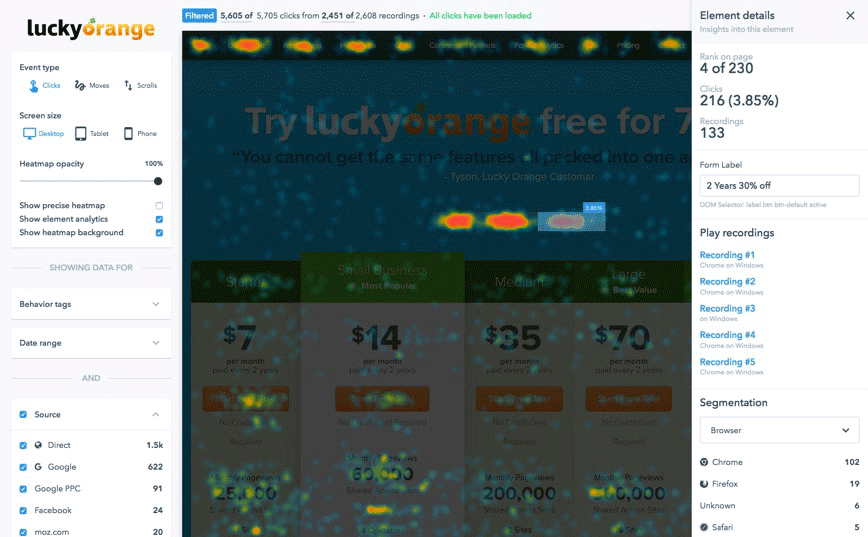 LuckyOrange offers one of the best in class heatmaps which are dynamic and interactive. You can see in real-time as your users toggle menus, open pop-ups, or navigate through steps in a form. You can analyze clicks, move, and scroll depth and also learn more about your users through segmentation. It also has element analytics which allows you to deep dive into each and every element and watch how users interact with each of the elements of your website

LuckyOrange has other website optimization features including an analytics dashboard, session recordings, conversion funnels, form analytics, and polls.

Pricing
Starting Price: $10.00/month
Free Trial: Available (7 Days)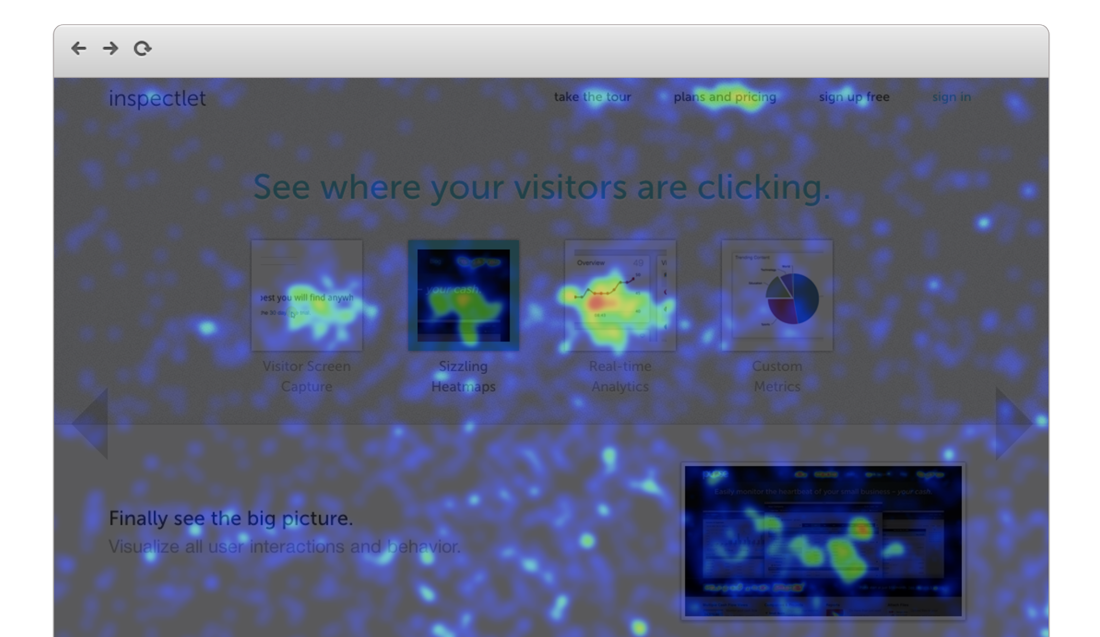 Inspectlet's dynamic heatmaps let you see what your visitors are paying attention to and what part of your site they're reading by visualizing their mouse movements. Inspectlet provides Eye-tracking heatmaps (mouse movement heatmaps), click heatmaps, and scroll heatmaps.

The other features provided by Inspectlet for website conversion optimization include Session recording, A/B Testing, Form analytics, and Error logging.

Pricing

Free version available for 1000 pageviews/month and limited features,
Paid Plans starts from $39/month

Mouseflow is probably one of the first website conversion optimization tools that were launched. It has powerful features for website optimization with165k+ customers. Mouseflow's heatmaps summarize where people click/touch, move the mouse, scroll, pay attention, and are located. It represents the user behavior in a simple and easy-to-read format allowing you to uncover what works and what doesn't.

Session Replays, Conversion Funnels, Forms, and feedback features in mouseflow helps you understand how people use your site, where they leak out, and identify what helps or hurts your conversions.

Pricing

Free version available for 100 recordings/month and limited features
Paid Plans starts from $24/month

Heatmap.com is a heatmap tool that supports dynamic elements and is robust to changes in layouts and appears in real-time. As you edit your content, for example you change a picture, you can see the impacts of your change immediately with heatmaps' technology.

Pricing:

Free version available with limited features(including no technical support)
Premium Plan starts at $100/month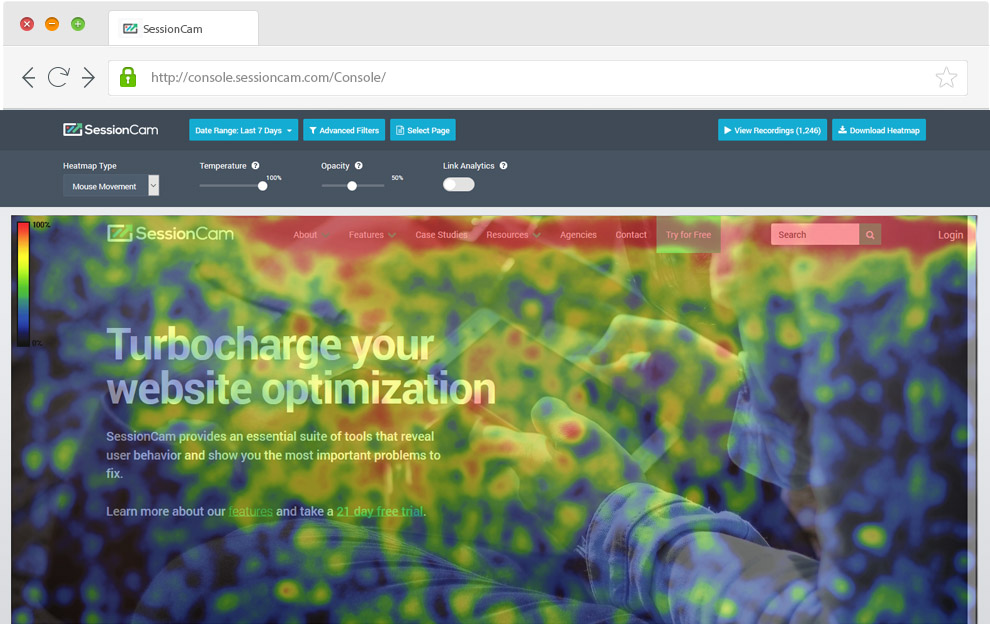 SessionCam's heatmaps allows you you to see how your vistors interact with your site and identify the hot and cold areas of engagement. It provide mouse movement heatmap,  mouse click heatmap, scroll heatmaps and attention heatmap. The attention heatmap shows which areas of the webpage have been viewed most by the user's browser.

SessionCam also offers some interesting features like struggle detection which uses machine learning algorithms to uncover points of the frustration of your users. Other key features of SessionCam are session replays, conversion funnels, form analytics and error detection.

Pricing
Starts from $ 50/month
Free Trial available (21 days)


Smartlook is yet another user behavior analytics tool with great features. It can be used for website analytics as well as mobile app analytics. Smartlook's heatmaps are dynamic and easy-to-read.  You can also use retroactive data to generate heatmaps. Smartlook also allows you to segment heatmaps by different types of visitors like new and returning visitors and how their behaviors differ. You may also segment the heatmaps by device and see how any page works on desktops, mobiles, or tablets. Smartlook provides click heatmaps, scroll heatmaps, and move heatmaps.

Session Recordings, Funnel analytics, Events and Analytics, and reporting are the other features available in Smartlook.

Pricing

Free Version available with 1500 sessions/month
Starter pack starts at $31/month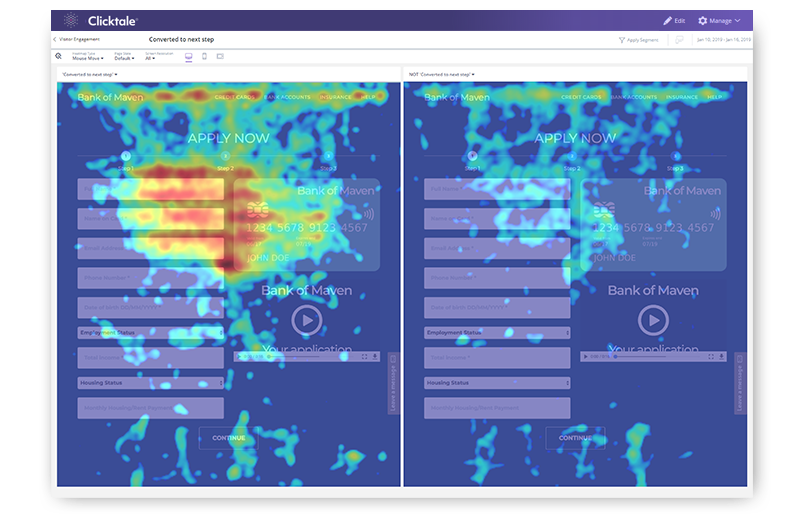 Clicktale's heatmaps are high fidelity data-rich heatmaps that allow you to gain insights into your user behaviors. It offers mouse move heatmaps, mouse click/tap heatmaps, scroll reach maps, and attention heatmaps that allow you to optimize your website the way you can hold your user's attention. Clicktale's link analytics allows you to understand users' decision-making processes to optimize your site for maximum persuasion.

Clicktale also offers other excellent analytics features for website conversion optimization including session replays, conversion analytics, and advanced data analytics. But the product is quite expensive for small size businesses.

Pricing

Starts at $ 99/month

That was the list of top heatmap tools that you should take a look at. Combining insights from heatmaps with A/B testing results can give more depth to your insights and help you make better decisions. Use analytics tools like session recording tools, conversion funnel analysis , etc as well to learn more about user behavior - how they interact with your site, what they like, what they don't like, why they leave your site and so on. These tools can help you eliminate a lot of guesswork and make more better data driven decision that can add value and bring in more conversions. All the best for converting your visitors to customers!