Top 5 Session Recording tools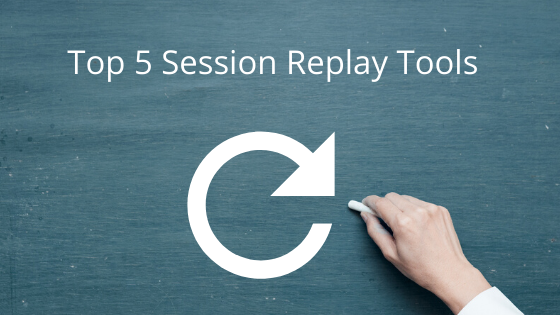 With an increase in the number of websites, eCommerce platforms, and other online platforms, users today have a variety of options to choose from. In this highly competitive environment, it requires no explanation for why your website should be optimized to attract your visitors and prevent them from going elsewhere. However, understanding your website user behavior is one of the keys to optimizing your website so that you can give them what they are looking for. A session replay is a great way to understand your user behavior. Session replay tools record your website visitors' actions as they navigate and perform actions on your website, capturing all the actions including mouse movements, clicks, taps, scrolls, etc, save these interactions and allows you to playback as and when needed. By analyzing the recordings product or marketing teams can identify the weak spots and sweet spots of your web pages and take actions based on the insights you get from watching the recordings to optimize your web pages or campaigns. Doesn't that sound interesting and quite easy? Well, it indeed is! Watching what your users are worth a thousand analytics reports and visualizations that you need to dig in and analyze to come to vague guesses.

In this blog, we bring to you the top 5 session replay tools in the market today that can give you valuable insights on your user behavior so that you can optimize your site based on your users' taste.

But, before we really jump into the list of session replay tools, let's take a quick look at whom and how these tools can help you and what are the few insights that you could really get from these tools.

For Whom?

Session replay tools can be used by teams across your organization as it helps each of them in unique ways and can make a lot of difference to the work they do. See how different roles in your organization can benefit from session replay tools:

Product Managers - By watching session replays, you can get to know how your users really use the product and get insights from their actual behavior and eliminate a lot of guesswork.

Marketers - Marketers can identify user satisfaction and how they react to different campaigns, content, landing pages, etc.

UX designers - By looking at user behavior and observing how they navigate through the UI, UX designers can empathize with the users as you really see where the users get stuck or where they are experiencing any issues.

Why?
There are many reasons why you should use a session replay tool and how it can help you gain insights on user experiences. Here is a list of benefits of using session replay tools:

You can look at individual visitor sessions and understand how they navigate through your website.
Discover where users get stuck or where your users are dropping off from your funnel.
Identify bugs as and when a user encounters it, reproduce the bug with the same steps he followed.
Identify how users react to new landing pages or new features.
Understand the problems your customers face by observing how easily they can navigate through your website.

Top Session Replay Tools

Let's now get started with the top session replay tools.

Pricing : Starts at $89/month
Free trial available


Hotjar is one of the most well-known session replay tools available today. It can track user behavior by recording user actions including clicks, taps and mouse movements. By watching the session replays you can identify the usability issues of your website in a fly and also get to know about the issues your users face.

In addition to session replay, Hotjar also offers several other features which makes it a powerful solution to connect all dots your UX optimization. Here are the other features offered by Hotjar:

Heatmaps - A graphical representation of what your users do on your website - where they click, how far they scroll, where they spend most of the time, etc. Hotjar provides click heatmaps, move heatmaps and scroll heatmaps.

Conversion Funnels - Create your funnels and identify on which page or which step visitors are leaving your site. You can also watch the recordings of drop-offs.

Form Analysis - Hotjar provides a form analysis feature that allows users analyze their forms and identify how your forms are used by users. You can visualize form and field engagement, identify any problematic fields and view form drop-offs and submission stats.

Feedback Polls - Hotjar has a feature that allows you to get feedback directly from your visitors. You can use a customizable widget for your poll, use multiple question types and visualize feedback and results in an intuitive interface.

Surveys - With Hotjar you can build your own responsive surveys using an easy editor, easily invite your site visitors to participate and visualize results per question.

Powerful targeting - Using Hotjar, you can target visitors using URLs, devices, or custom JavaScript triggers.


Pricing: Starts at $29/month
Free Trial available

Mouseflow is probably one of the first among session replay tools. Mousflow can track clicks, mouse movements, and scrolls. It lets you replay the full visitor experience to identify pain points, boost conversions and optimize your website. It can eliminate guesswork on where your visitors are struggling by recording frustrated users, JavaScript errors, friction and much more. It integrates well with most of the CMS platforms like WordPress, Magento, Joomla, Wix, etc and analytics platforms like Google Analytics, Kissmetrics, Optimizely, Unbounce, etc.

Other features offered in Mouseflow are:

Heatmaps - Mouseflow heatmaps summarize where your website users click, move the mouse, scroll, pay attention, etc. It uses a simple and easy to read format so that you can analyze the heatmaps very easily and understand what works and what does not on your web pages.

Funnels - With funnels in Mouseflow, you can track activity from page to page on your site and understand where users drop off.

Forms - Mouseflow can be used to monitor how visitors interact with your forms and measure form drop-offs, refills, blank submissions, errors and more for each form field in real-time.

Feedback - You can create interactive surveys targeted at a specific audience in a few minutes to gather feedback from your visitors.


Pricing : Starts at $199/month
Free Version available

FullStory is a digital intelligence platform to help eCommerce and SaaS companies understand their digital experiences and improve them. It provides video-like replay of real user sessions along with many other robust debugging and developer tools that pinpoint how user struggle is affecting your website retention.

Fullstory offers a comprehensive feature list that can help various teams across your organization including product management, Engineering, Customer support, UX design, and marketing teams.

Fullstory has excellent data recording capabilities allowing you to capture everything on your site with one small snippet of code that covers every page, every click, every mouse movement, JavaScript console logs and exception, and every dynamic state change.

Some other major features available in FullStory are:

Conversion Funnels - You can create and measure your business's most important conversion funnels in FullStory.

Heat Maps - FullStory's heat maps lets you identify which elements are used most or least and decide what needs to be done to increase engagement.

Page speed metrics - FullStory gives page load benchmarks for every page viewed by every user on your site.

Alerts - You can set threshold alerts for saved segments to receive emails whenever the user count exceeds or falls below the set ranges.

Frustration Signals - FullStory alerts you on frustration signals from users like error clicks, dead clicks, rage clicks, thrashing mouse, etc.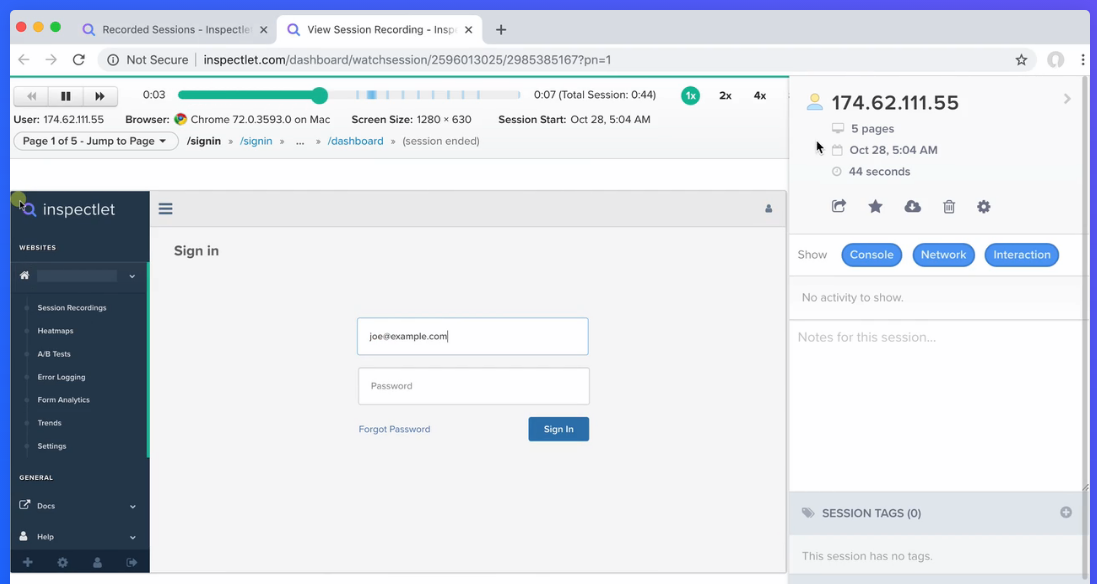 Pricing : Starts at $39/month
Free Version available

Inspectlet is yet another leading session replay tool that lets you record videos of your site visitors as they use your site. You can see every mouse movement, scroll, click, and keypress on your site. It has advanced filtering capabilities allowing you to find exactly the visitors you are interested in watching session replays of.

You can tag your sessions and users using Inspectlet and identify individual users or capture interesting events using this feature.

Some of the other major features included in Inspectlet are:

Dynamic Heatmaps - With Inspectlet's heat maps you can visualize what your visitors are paying attention to and what parts of your site they are interested in. It offers eye-tracking heat maps, click heat maps and scroll heat maps. Eye-tracking heat maps allow you to see where your visitors are looking and what parts they're reading by visualizing their mouse movements. Click heat maps which helps you find out what your visitors are clicking on, whether it's a button, link, an image, or text they expected to be a link. You can immediately see what's working and what isn't. Scroll Heat maps show how far visitors are scrolling down on your webpages.

A/B Testing - Inspectlet offers an A/B testing tool that allows you to test variations of your webpages against each other, identify which version truly [performs best and make data-driven decisions.

Form Analytics - Inspectlet's form analytics provides you with conversion critical information on the performance of your forms. It gives you a multitude of insights about your forms with its various reports like conversion report, hesitation report, fill- report, ignored field report, etc.

Error logging - You can monitor all JavaScript errors, view all network requests at a glance and see exactly how the error happened by watching the user's entire visit with session replay.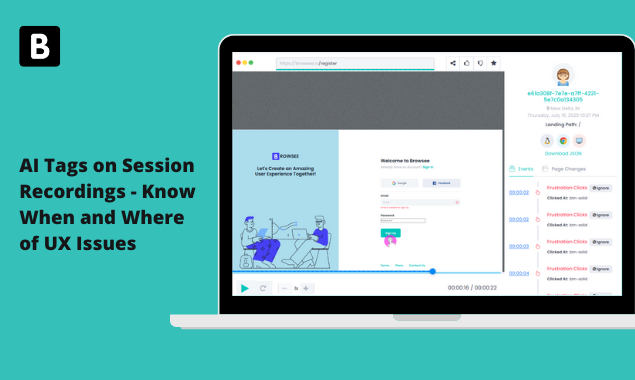 Pricing : Starts at $19/month
Free Version available
Browsee is a complete conversion optimization tool with excellent session replay capabilities. It helps you visualize how your users use your product and what they like or what they dislike about your product.

With Browsee's session replays, you can easily learn about the impact of new features or why users are abandoning your website or cart. You can also identify the issues your users are facing and know exactly how to reproduce them.

Browsee also offers AI-based tagging that allows you to watch sessions that really matter to you.

Some other major features of Browsee are:

Conversion funnels - You can create conversion funnels with goals set and analyze the steps to identify where your users drop. You can also get daily funnel reports to your inbox.

Circles - Browse lets you create circles by segmenting your user sessions based on queries, save the segments and get daily reports to your inbox.

Heatmaps - Browsee offers Click and Scroll maps, and attention maps. The click and scroll map allows you to know where your users are clicking and up to which point they are scrolling. Whereas attention maps let you know where users are paying attention on a page. Thus, Browsee's heatmaps helps you know which areas of your website gets more or least engagement and lets you make appropriate actions. You can also compare heat maps side by side on selected date ranges.

Error reporting - You can get alerts on errors encountered by users to your email or slack.

Frustration Alerts - Broswee also can alert you of rage clicks, frustration clicks, etc so that you can know the issues your users face and work on bug fixes without the users having to raise support issues.


Session replay tools are a great way to monitor user behavior and optimize your user experience and conversions based on data-driven insights eliminating the need for any guesswork. Sounds interesting? Get started with Browsee's free plan to see the magic of Session Replay yourself!