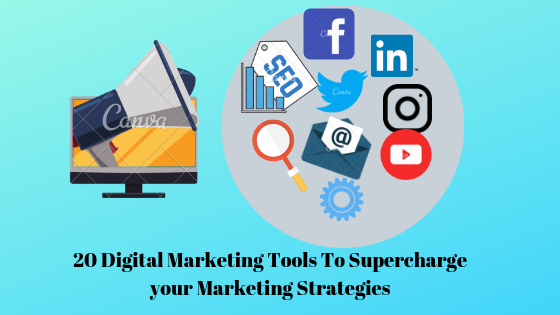 Ensuring an online presence and connecting with your audience via digital channels is very critical in the current scenario when people are really spending an insane amount of time online! The Global digital report 2019 from We Are Social and Hootsuite reveals that 45% of the world's population are social media users and on average the world's internet users spend around 6 hours 42 mins per day online. So, no doubt, digital marketing definitely is one of the cost effective ways to reach your target audience across the globe.
Your digital marketing strategy may include any or many of the techniques like Search Engine Optimization (SEO), Search Engine Marketing (SEM), Content marketing, Email marketing, Social media marketing, Affiliate marketing, etc. Whatever be your marketing strategy, you need the right stack of tools to execute your strategy. Only with the right tools and strategies you could survive the competition and win your potential customers. So, we bring to you a list of top tools that can really help you work on your marketing plans. The list comprises tools for your various digital marketing needs- like SEO, SEM, keyword ranking for content marketing, analytics, email marketing, social media marketing, design, etc.
Keyword everywhere is a browser add on which can be used for keyword research. It is available for Chrome and Firefox browsers. The add on gives you monthly search volume, cost per click and competition data of keywords onto the interface of your keyword research tool. You can see the relevant search volume data on 16  websites useful for digital marketers.
Google trends, from Google itself, is another popular tool for keyword research. It analyzes the popularity of top search queries in Google Search across regions and languages. It also allows users to compare search volumes for two or more terms and also gives a list of related searches and their search volume.
Every marketer would need to know this tool for sure. It is the digital analytics tool from Google. It collects the data about your website visitors and allows you to analyze in depth every interaction that the users perform on your website. You could use the data from Google Analytics to better understand and evaluate the performance of your marketing, content, products, etc. The insights from the data can also be used to optimize your efforts and strategies. Google Analytics is absolutely free to use. You only need a Google account to start using Google analytics.

Google Ads is the online advertising platform from Google. Advertisers have to pay to display their content, product, website, etc. It helps you get in front of your customers when they are searching for services or products related to your business. There are multiple ad types in Google ads like text-based Search ads, Display Ads, Video Ads, and App Ads.
Keyword planner is a free tool that comes as part of Googs Ads. You can use Keyword planner as a tool for keyword research and see how a list of keywords might perform. Advertisers can use the tool to choose competitive bids and budgets to use with your campaigns. It gives you statistical data like search volume, predicted clicks, estimated conversions, etc which helps you decide the keyword to use and guide you one deciding the appropriate bids and budgets to set.
No doubt, your website speed has an important role to play when coming to conversion rate optimization and search engine optimization. Page speed is critical to get a better google ranking for search engine results and thus marketers would often need to check their page speed and optimize the page in order to make your page load faster. PageSpeed insights from google is a free tool which comes handy then. The tool gives you a PageSpeed score and suggestions to make your website faster.

Buzzsumo id one tool I recommend to any content marketer ou there. You shouldn't miss this tool by any chance. It is a really cool tool that would help you develop smarter content strategies. This tool lets you understand what content performs best for any topic or what content works for your competitors. It gives a lot of information about content that is performing well in a niche, including the social shares for the topics, backlinks and much more. The insight you get from data can definitely help you decide on your content development strategies.

Similarweb is a tool that lets you gain insight into any website's traffic statistics and strategies. You can check for your website as well as your competitors. All you need to do is enter the URL of the website. It is a really cool tool to have handy when you are just starting to work on market research, working on improving your online presence and for competitor analysis. It gives a lot of information like website ranking, traffic estimates, engagement values like page views and time on page, top keywords, similar sites, etc. The free version itself has a number of features and they have a pro version with even more features.

Ubersuggest is another tool that any content marketer should take a look at. I bet its one awesome tool for keyword research. It helps you generate 100s of keyword ideas for your content marketing strategy. The keyword research in the tool is broken into three main sections- overview, keyword ideas, and SERP analysis. In the overview section, you can see the search volume for any keyword, its popularity trend, cost per click, SEO difficulty and paid difficulty. The second part is the keyword ideas section where you get a comprehensive list of potential keywords and you will also be able to see volume data for each keyword, CPC, SEO, and paid difficulty scores. The SERP analysis gives you details like the sites that rank the top 100 for the term, estimated visit count, social shares each URL has and its domain score. Isn't it really cool? It's absolutely free to use.

Yoast SEO is the search engine optimization plugin for WordPress. The majority of the websites today are built using WordPress and hence this is an essential plugin every digital marketer ought to know. Whatever be the website you have, Yoast is an essential plugin to make your website search engine friendly. Yoast helps you with optimizing your website to be ranked higher by letting you optimize your keywords, analyzing the readability of your copy, enabling clean permalink URLs, and much more.

Moz is a tool that makes content marketing easy by helping you with keyword research and link building. It can perform site audits, track performance of keywords, helps with backlink analysis of any website and so on.

Till now, we have covered tools for SEO and SEM. Now let's see the most widely accepted tool for email marketing, another major digital marketing technique. It's MailChimp. It is a tool to automate your email marketing campaigns. There are many options for email marketing, but MailChimp continues to be the best option from the time when it was developed in 2001. It lets you track the traffic generated from your campaigns as well. Like most of the other digital marketing tools, MailChimp offers a free plan as well as premium plans. The free plan itself is good enough for starters and small businesses. You can have 2000 subscribers and send up to 12,000 emails per month with free plan itself. So, why to wait? You can start using MailChimp and implement an email marketing strategy from day one. No costs involved.
Hootsuite is the most used social media management platform. No doubt, social media plays an important role in digital marketing these days, and in fact is one of the most potential platforms to reach your target audience. With Hootsuite, you can manage social media profiles in over 35 popular social networks from a single dashboard. You need not visit each individual platform. It also gives you excellent analytics reports about your audience, what's working or what's not working and how to improve your campaigns.


Buffer is another wonderful social media tool to try out. It lets you plan and publish your social media posts for Instagram, Facebook, Twitter, Pinterest, and LinkedIn, all from a single dashboard. You can also custom tailor posts for each platform. This tool offers a lot of cool features to share posts and build your brand on social media.

Hubspot is a complete marketing platform. You get everything you need in one place. With the Hubspot software, you get access to tools for SEO, blogging, social media, lead management, landing pages, Content Management Site, email, social media, Ads, and analytics. Apart from the marketing platform, HubSpot also offers CRM, Sales and Services platforms.


It's a proven fact that landing pages are critical for increasing your conversions. Your website is great for providing all information about your business, but when thinking about conversions, websites usually make visitors distracted with loads of information and navigations. Marketers would thus often need to build dedicated landing pages that prompt visitors with one focused goal. Unbounce is one tool that lets you create beautiful landing pages that convert more. It has got 100+ quick to use templates and you can create the landing pages you need without any coding- just drag and drop.

Optimizely is one of the most popular A/B testing and multipage experimentation product. It lets you test your ideas, be it a new headline, new campaign, or new offer. It lets you make data-driven decisions. The insights you get from Optimizely can be used to optimize your user experience and generate more revenue.

Leadpages is another easy to use landing page and website builder. It also gives analytics and performance tracking. It supports A/B split tests as well for your pages.

Kissmetrics is a customer engagement automation tool, which helps you better understand and engage your customers throughout their purchasing journey. It helps you connect with your customers, implement automated behavior-driven email campaigns, measure campaign impact and analyze your audience. With this tool, you can figure out what works and what doesn't in your campaigns.

Creating stunning and aesthetically appealing designs is an inevitable chore in digital marketing. Canva is your friend when it comes to designing- be it an image, poster, banner, logo, infographic or whatever, you could do it easily with this tool. It is the perfect tool for beginners and loved by experts as well for its features and ease of use. It eliminates the need for an experienced designer and enables even a newbie to create stunning visuals using the vast collection of pictures, icons, shapes and fonts in the Canva catalog.

Well, I cannot wrap up the article without mentioning our tool, Browsee. It definitely is one tool that would bring in a lot of value add to your marketing efforts. I believe one of the most important tasks in digital marketing is the website visitor's analysis. The insights you get from web analysis is critical in optimizing your website. Basically Browsee is a conversion optimization tool that lets you understand your customer behavior and truly understand what needs to be optimized on your website or landing pages, rather than going by guesswork. It brings to you multiple features like Session replays, Heat maps, Funnel analysis, etc to understand what actions your visitors are performing on your website - what they like or dislike, where they spend more time, where your users drop and so on. These pieces of information are of great importance to any marketer who wants to optimize his content to increase conversion rates and decrease bounce rates.
Browsee also provides smart pop-ups, lead forms, and notifications. The smart pop-ups and lead forms are effective in converting your visitors to leads and bring about a lot of conversions. Sign up now for a one month trial and see the results yourself.
All the tools mentioned above are used by many experts in the digital marketing niche and proven to yield great results. Most of the above tools have a free version or a free trial available. So you can just give a try if you have not yet and see the features yourself. Hope it helps. Happy marketing!