The number of SaaS businesses are increasing recently mainly because of its profitable model. This has eventually created a competitive and saturated market with so many competitors selling the same types of services. Now, do you have a SaaS business to market? Then remember, selling SaaS is not an easy task with all these competitors. You need to certainly put in a lot of efforts to gain customer attention amidst all of them and get to sell your product. Email marketing, of course, is the most effective mode to reach out to your prospects. But, let's face it- creating a successful email marketing strategy is challenging and requires meticulous efforts and careful planning. Consider the overwhelming number of marketing emails each of us receives every day. How many of them do we actually open. Majority of such emails go to trash. So, sending emails that your customers open and responds to is not an easy task. There are many factors that could steal your customer's attention- like an exciting subject line, an enticing offer, an attractive image or video.  I would better say a combination of multiple factors - the subject line, length, content, graphics, your call to action, etc determines the response rates.
So, here we bring to you 10 email templates that would help market your Saas business and generate more leads.
1. Promotional/Onboarding emails
These emails are the first step to making customers sign up to your product. I would say this is one of the most important types of email and it requires to be chosen wisely. It has to be strong and appealing enough to attract customers and convince them about your product. It should convey the values of your product and at the same time be short, crisp and sweet. If you need to convey more information be careful to organize it in an appealing manner and take care it doesn't look cluttered. You can use attractive graphics and colors to make it more attractive. The email should give your customers a feeling of 'Wow' or at least 'let me have a try'.
Check the onboarding mail from Adobe Creative Cloud.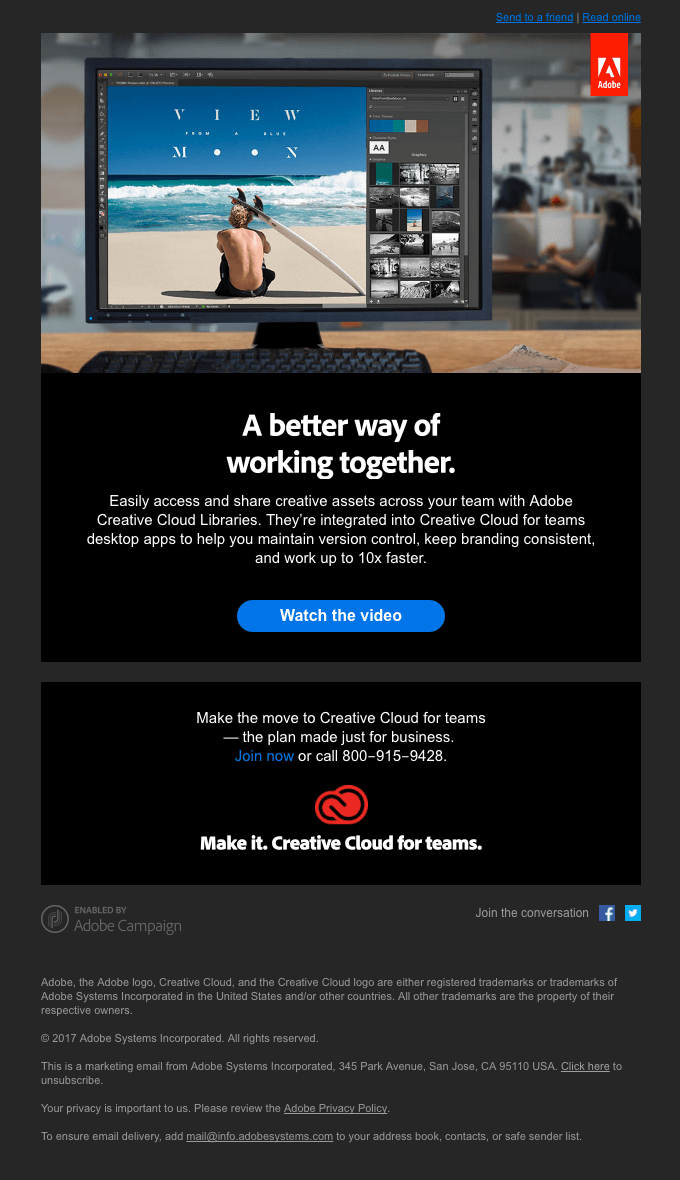 What is appealing in the template?
The copy clearly says the purpose of the product.
A Video added in the template enables the customer to have a clear idea of what the product does.
The design looks very professional.
2.  Welcome
Once a customer signs up, it is a good practice to send a Welcome mail. These emails are really important as it sets an impression of your product and also the tone for future communications. It also helps build a feeling of trust in your customer that can nurture a stronger relationship with your brand. Thus, Welcome emails are a crucial element to boost engagement and hence creating an effective welcome mail is really important. Also, make it a point to make the welcome mail useful to the reader by adding some content related to the use of your product. It could be some text, image or even a short video. The below Welcome mail from RealTimeBoard is a really good template.

What is appealing in the template?
The mail looks personalized as it is addressed to the person by name and also it says it comes from the CEO's desk.  
The mail has a quick guide on what you can use the product.
Simple design and content.
3. Account verification
Most of the SaaS businesses would have to send Account Verification email as part of the signup process. These emails should be straight forward and don't load it with too much content. But you can add in some useful information in a short video or image without making the email looking cluttered. Take a look at the Account Verification mail from webflow.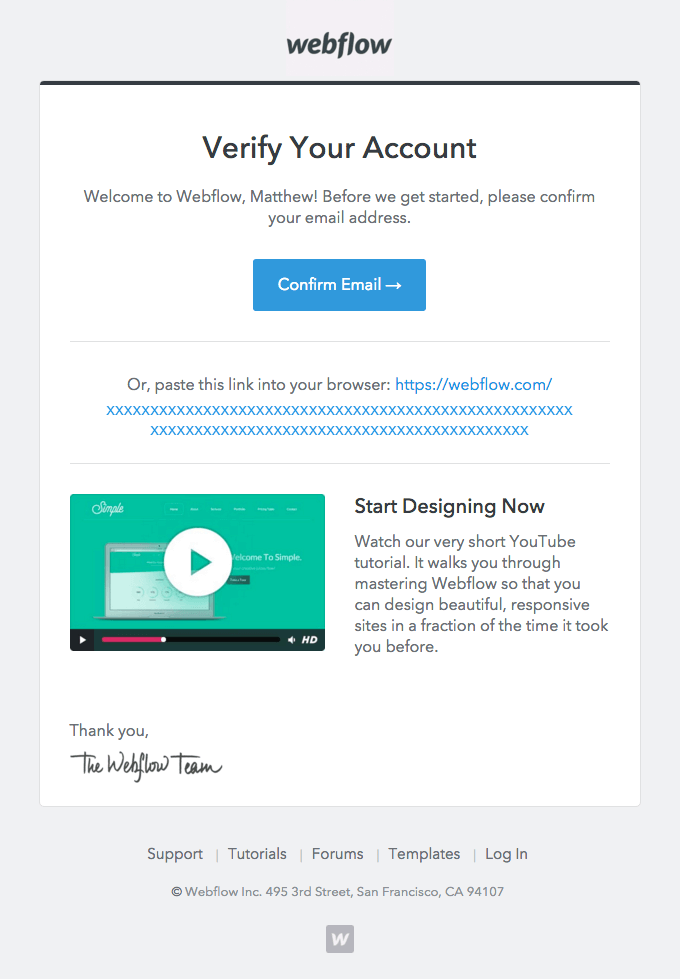 What is appealing in the template?
Straight forward email with CTA button (Confirm Email) and the link to be copy-pasted.
The short video tutorial helps the customer get more idea on next steps after creating his account.
4.   Thank you email
Sending Thank you emails to your customers is a great gesture and helps you build your relationship and connect with them. It might be after the customer accesses some content on your product or even on your anniversary. Just thank them for being with you. It could help make your customers feel valued. In addition to the Thank you, you can include links to your product page, give a promotional offer, provide a referral link and so on.Given below is an email from theSkimm on their fifth anniversary.
Given below is an email from theSkimm on their fifth anniversary.

What is appealing in the template?
An attractive email which creates a feel-good mood to the reader.
The story of the customer's journey makes it look convincing and personalized.
The Call to Action Share button for making a referral is a good strategy.
5.  Free trial
Offering Free Trial of your SaaS is a great way to let your product sell itself. There is a high chance of the free trial user's converting to plaid plans based on your product and the free trial offer. For example, GoToWebinar, webinar and webcast software says around 40% of their free trial users convert to paid users. When people sign up for a free trial, they enter your marketing funnel and turns out to be a promising lead themselves.The below email from VSCO offering a free trial of their product VSCO X is an effective template worth trying.
The below email from VSCO offering a free trial of their product VSCO X is an effective template worth trying.

What is appealing in the template?
Copy clearly says the value of the product.
Bold CTA button.
The content shows the most important features of the product and the benefits of using it.
6. Retention email/Reminder for free trial ending
It is important to send these emails to retain your free trial subscribers and upgrade them to paid subscribers. Sure that not everybody who took a free trial would upgrade to paid plans. Make these emails short, but include points that attract your customers to upgrade. See the email from Squarespace, a SaaS for website building and hosting.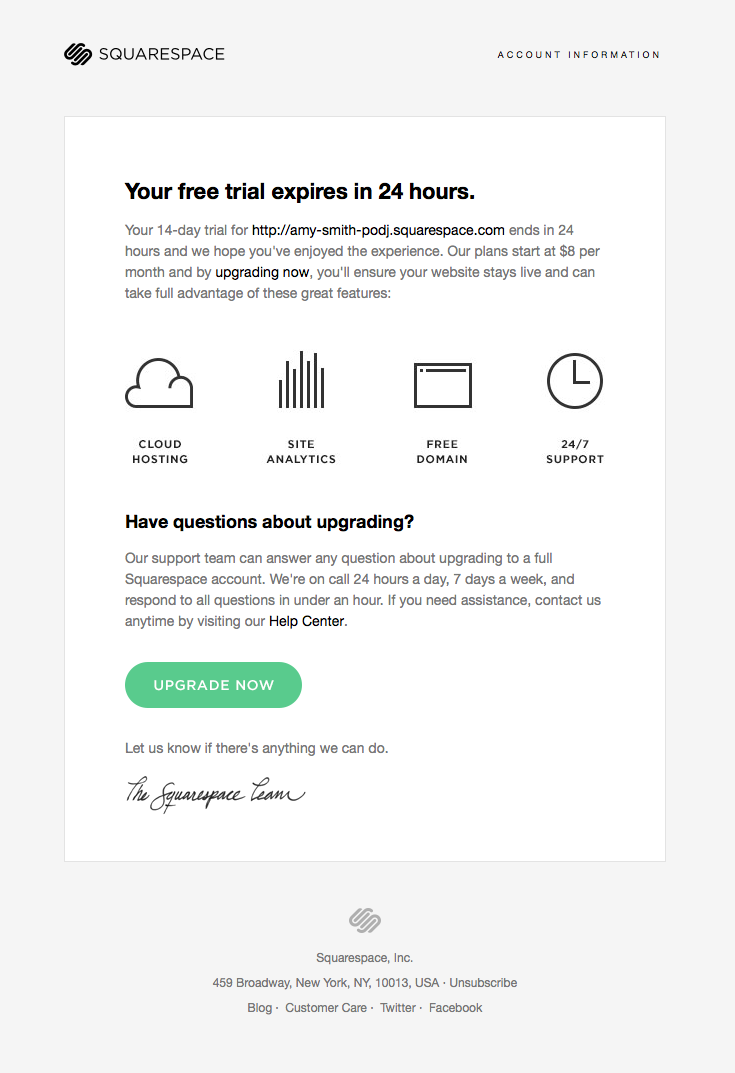 What is appealing in the template?
It clearly lets the customer know he just has a brief 24 hours to activate the account.
Bold and Clear CTA button.
Illustration of product benefits looks great with some images or icons rather than plain text.
Further, the images are backed up by links which take you to more details of the feature.
The section on 'Have questions about upgrading' is a really good thing to have in these kinds of emails.
7.  Newsletter
Regular communication with your customers is a must to build long-lasting relationships and Newsletters are a great way to keep your customers engaged with your brand. It is one of the effective SaaS email campaigns to build brand loyalty. Newsletters, in fact, is a service to your customers and allows you to share some worthy content to keep them in the loop on product updates, educating on related topics, or even entertain them with some interesting content.
Below is a newsletter from Campaign Monitor, a SaaS platform providing email templates for email marketing.

What is appealing in the template?
Good design which helps to get the reader's attention.
Good description of what each article is all about.
Bold Call to Action button leading back to the product page.
8. Webinar invite
Webinars definitely are one of the most effective ways to reach out to your potential customers and speak directly to them. It is important to send email invites to your subscribers to make them aware of any upcoming event and let them register for it. The email should have details of what the webinar is about, date and time, speakers and the Register link.
Take a look at the below invite from Salesforce, a cloud computing SaaS provider.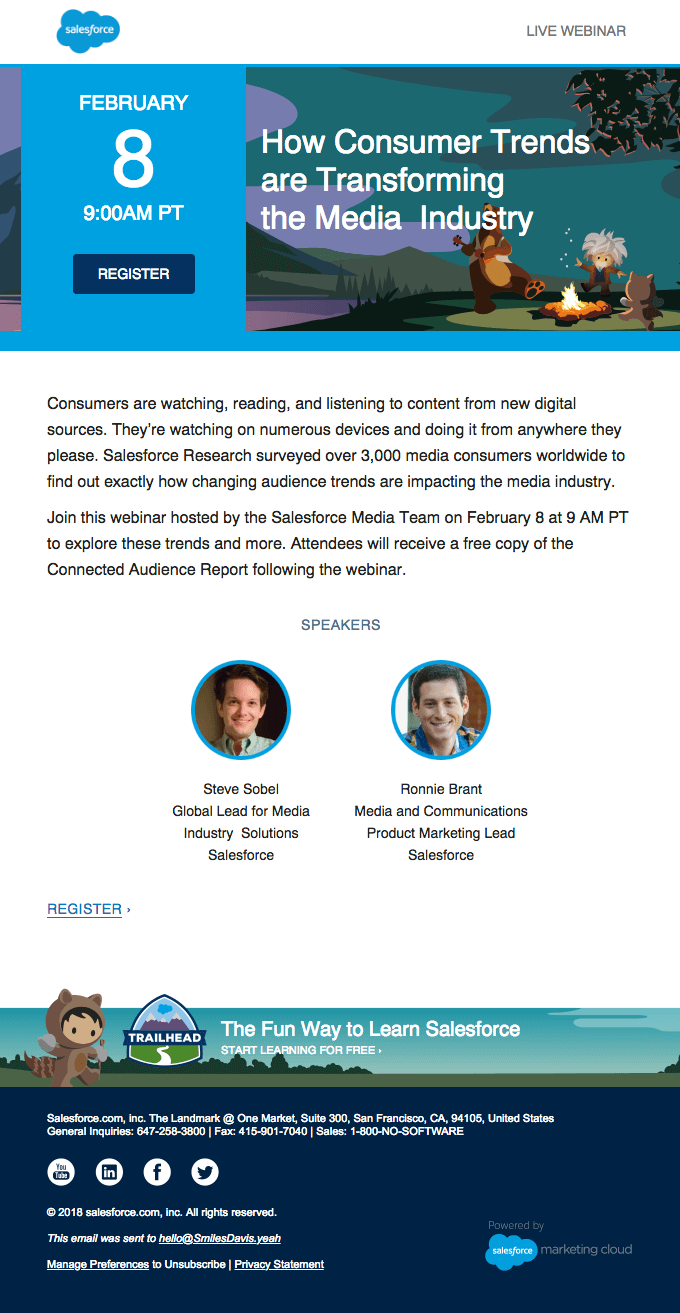 What is appealing in the template?
A catchy heading which is a must to make customers interested.
Bold 'CTA' button (Register button).
A good copy explaining the topic and its importance.
A register link at the end of the email makes it more convenient to the readers
9. Customer Referral program email
Customer referrals should be an integral part of your sales and marketing plan as it is one of the best ways to increase your sales. A successful referral program email should make the reader excited about both the brand and referral reward, and should get them talking and sharing about your brand.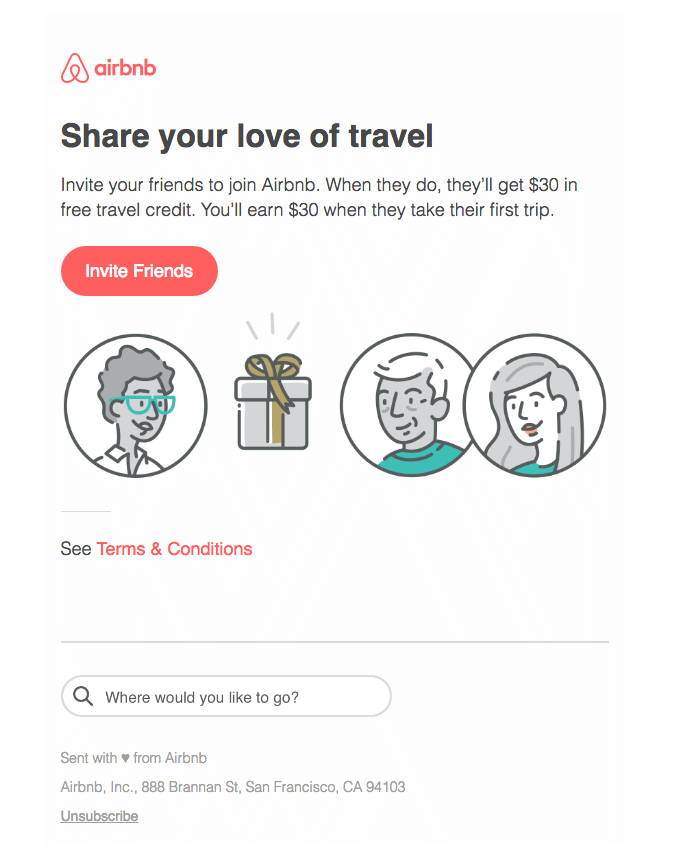 The above mail from airbnb is a simple but effective template.
What is appealing in the template?
Simple copy explaining the referral reward.
The bold red CTA button.
An easily achievable target (just one referral).
10.  Product updates/Announcement of new features
It is very important to communicate any updates to your products to your subscribers to keep them in the loop and use your products to the full extent. Check out the below new feature email Tailor Brands sent out, introducing their new branding page tool.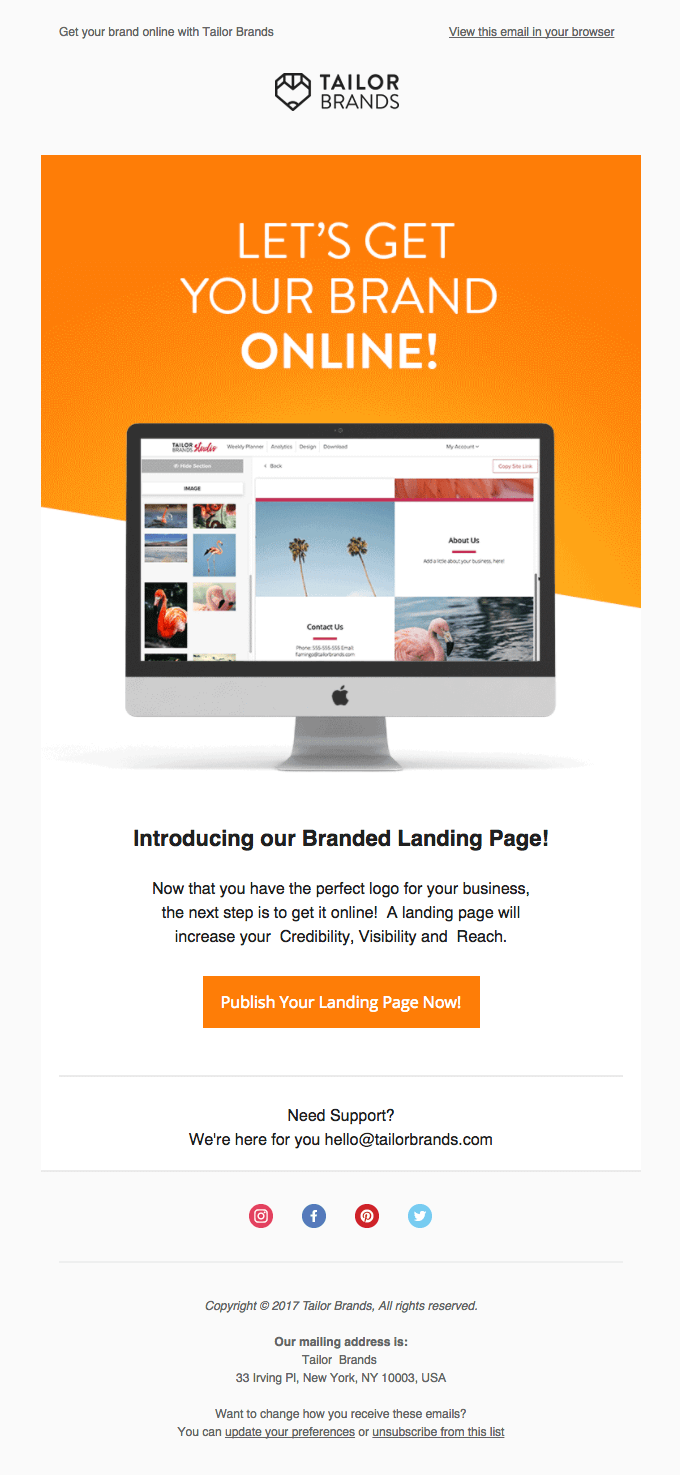 What is appealing in the template?
Simple but eye-catching design.
A good headline and hero image telling all about the purpose of the new feature.
Very short description telling what the new feature and why you need to use it.
Bold and clear CTA button taking the user to the product login page.
These are some of the most important types of email that you could use for your SaaS Business marketing. Hope it helps for your marketing campaign!